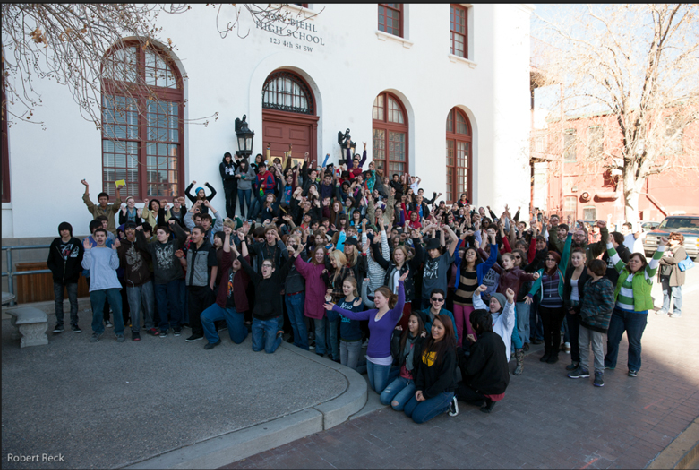 Amy Biehl High School
www.AmyBiehlHighSchool.org
Tony Monfiletto and Tom Siegel, two inspired public school teachers in Albuquerque, New Mexico, set out in 1999 to create a school that would hold itself accountable for students after they graduated from high school. They aimed to prepare students for college by requiring that all students, regardless of their learning ability, would successfully complete two college classes before graduating from high school. Additionally, every student must complete a year-long community service project in their senior year that is relevant to their college coursework. They named the school after Amy Biehl because they felt that she was a role model that high school students could relate to and her mission for her own life was similar to what would be expected of students at Amy Biehl High School. They opened their doors in 2000, with the following mission statement:

"Amy Biehl High School was founded in the spirit of Amy Biehl, a young person dedicated to social justice. Using a thematic approach across subject areas, we teach students to apply and demonstrate skills and knowledge and to analyze and address community needs. Through service, students are challenged to play meaningful roles in their communities while developing leadership skills. We are a school of choice that assists a diverse student body to acquire intellectual, social, and ethical habits to prepare for post secondary education and life."

Today, our motto is "Courage, Scholarship, Community". Four years later, our students are succeeding in college and making a difference in their community. We have a high special education population, yet currently, students are taking Physics 101, English 101, and Communications at the University of New Mexico and Computer Animation, Woodworking, and Health at Albuquerque Technical Vocational Institute. Those same students are also working at Healthcare for the Homeless, Habitat for Humanity, and New Mexico AIDS Services just to cite a few examples.

This Spring, we will graduate our first class of seniors! We have invited Zach Biehl to speak at our graduation ceremonies and he has graciously accepted! It will be a celebration of our young student pioneers, their teachers and administrators who have guided them through this revolutionary process and the legacy that Amy has left all of us. Like our namesake, we are not afraid to, in the words of Mahatma Gandhi "be the change we wish to see in the world."

Note: Amy Biehl High School has recently acquired the old Federal Post Office building from the General Services Administration in the heart of Downtown Albuquerque! This elegant 52,000 square foot structure, built in 1908, will be home to 200 students. We are in the process of renovating the building to be suitable for school use, and look forward to being the first urban high school in Albuquerque in more than 30 years! Our students will have access to all of the wonderful downtown museums, parks, public library, courthouses, art galleries, zoo and cultural centers, and their presence will revitalize the Downtown community in return. We plan to move into this beautiful space in August 2004.